What is eProcurement? It is an electronic procurement or supplier exchange system. It allows for purchasing and selling supplies, equipment, works, and services through a web interface or other networked system instead of paper-based processes.
Why is eProcurement important? The concept is designed to centralize and automate interactions between an organization, customers, and other value chain partners to improve the speed and efficiency of procurement practices.
According to a survey by Procurement Leaders, nearly 78% of chief procurement officers believe that inflation and rising costs of goods are their top challenges. Closely following is a concern about supply chain volatility1.
eProcurement boasts a suite of innovative features – all designed to bolster the efficiency, effectiveness, and total cost of procurement.
1 Procurement Leaders. Heath, N. (2022, October 21). CPO Compass 2022.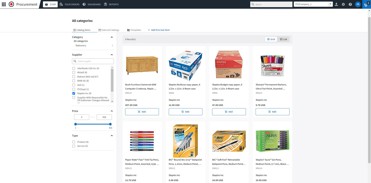 Background
eProcurement started in the 1980s when electronic data interchange (EDI) was developed. EDI allows files and documents to be shared between people in business, which was revolutionary at the time. Businesses no longer had to send documents physically. Instead, they could be sent electronically. In the context of procurement EDI allowed customers and suppliers to send and receive purchase orders and invoices using call-forward networks, which was eventually superseded by email.
Later in the 1990s, EDI was improved as organizations developed specialized online catalogs for vendors. In its modern guise, eProcurement involves evaluating and selecting suppliers, such as eAuctions and eTenders, and what you need to purchase from these vendors, including electronic orders and supplier catalogs.
Benefits of eProcurement
eProcurement offers significant benefits for your organization, and the most common are listed below.
Automates laborious tasks
Tasks such as auctioning orders and document management for purchase orders, evaluating and selecting suppliers, price negotiations, agreement creation, storing supplier contracts, and more can all be automated between an organization and its suppliers. This increases your business speed, freeing up staff for other tasks.
Improved workflows for procurement
This enables end-user self-service and decentralization with control through company-approved catalogs and more frictionless processing of employee requisitions (ordering goods and services) and supplier payments.
Visibility of your purchasing behaviors
eProcurement will give your organization visibility into what it spends. This invaluable data will help you control non-compliant (or maverick) spending. It may give you the tools to identify areas for consolidation of suppliers or to leverage buying power to negotiate cost savings.
According to a report by Grand View Research, the global procurement analytics market size should reach $18.2 billion by 2030 and expand at a CAGR of 23.6% 2. Having the necessary tools to view and understand procurement data will keep your business at the forefront of your industry.
Connecting to external supply chains and ERP
Real-time information can be shared between ERP or finance systems and supply chains for better visibility of supplier information and transactions.
2 Grand View Research, Inc. 2022, Procurement Analytics Market Size, Share & Trends Analysis Report By Component (Solution, Service), By Deployment, By Application, By Organization Size, By Vertical, By Region, And Segment Forecasts, 2022 - 2030, grandviewresearch.com.
How can you learn eProcurement?
Learning the ins and outs of eProcurement can be challenging, with continuous training and study required to keep up-to-speed with emerging technologies and processes. But, with the relevant training materials and literature, you can gain a working knowledge of eProcurement and discover its benefits.
Below, we look at some of the avenues to learn eProcurement.
Study toward a BSc or MSc in supply chain management
An effective way to learn the principles of procurement, an undergraduate or master's degree in supply chain management, will provide a solid foundation for a career in eProcurement.
Courses teach acquisition skills, supply chain management, and knowledge of eProcurement solutions.
Gain procurement certification
There are several procurement-related certificates to attain, including various qualifications from the CIPS - the Chartered Institute of Procurement & Supply.
CIPS provides training in all areas for a comprehensive formation of procurement knowledge.
Webinars, blogs, and e-learning sites
The internet is a rich resource for learning the basics of eProcurement, with webinars, blogs, and e-learning portals to help you master the practice.
Mentorship and on-the-job experience
Whether through an unpaid internship or as part of an on-the-job training program, a great way to learn eProcurement is through an experienced mentor who can share practical skills and knowledge in a real-world environment.
What are the major eProcurement tools?
There are several tools and processes used in the field of eProcurement, including:
Electronic Data Interchange system

An electronic data interchange (EDI) exchanges data and information between electronic devices. Messages and information from partner companies are transmitted and stored via EDI, streamlining invoicing and order logistics.

Internet applications and platforms

Businesses implement a variety of eProcurement tools and web platforms to facilitate day-to-day work. These include eSourcing, eTendering, eAuctioning, and eOrdering tools. Email is also used predominantly, as well as XML-based data transfer.

eOrdering and purchasing tools

Major tools relating to product purchasing include a web-based ERP and digital mechanisms for eAuctions.
What are the main functions of eProcurement?
The primary functions of eProcurement are far-reaching, offering a range of benefits for a company's day-to-day operation and supply chain activities. Below, we list the main functions of eProcurement for businesses:
Automates processes to free up resources and reduce errors.

Improves communication between stakeholders and partners to streamline the procurement cycle.

Provides a single platform for all procurement activity, giving stakeholders and managers a centralized platform for managing and auditing.
Offers real-time updates for vendors, management, stakeholders, and partners and the chance to curate and store procurement data.

Allows for streamlined negotiation between multiple partners and stakeholders.
Common challenges within manual procurement
Poor data management
Paper processes work against efficiency. In the modern world, businesses can leverage data to improve their efficiencies and ultimately improve their bottom line.
When business data is held electronically, it can be shared across systems so that procurement doesn't become a mysterious data silo. The data metrics can be used to improve costs and reduce delays.
Supplier management issues
Manual procurement processing locks a business into a static way of handling repetitive tasks like communicating with vendors and seeking approvals. Each manual step adds to the time for procurement. Streamlined methods can remove handling errors that such an inflexible system makes difficult to correct.
Reduced delays and miscommunication will improve relationships with vendors and suppliers relying on speedy interactions for the sake of their own business health.
Non-compliance / legal risks
Paper processing creates a data entry nightmare for companies regarding auditing for regulatory compliance. Paper records are also inefficient to store and susceptible to damage or loss, which could bring legal ramifications.
Electronic data storage is far more secure and provides an effective risk management solution. Companies can back up data and secure it on password-protected platforms so only authorized personnel can access it.
Poor transparency
Since many groups are involved in the procurement process – procurement departments, approvers, financial departments, and vendors – it can be difficult to see the whole process simultaneously.
However, eProcurement can shine a light on different stages of procurement and give visibility into trends, inconsistencies, and areas for improvement.
Best practices within eProcurement
Seek full business support
Change is difficult, and deploying procurement software is the same. Promote the use of an eProcurement system throughout the company.
Senior administration, influencers, and general personnel should all understand and be on board with a new procurement system to make it a success.
Review the entire process
Implementing an eProcurement system will have far-reaching effects on a company's processes. Often many departments or jobs will feel the effects of those changes.
Analyze the entire purchase-to-pay process before implementing a system change. This optimizes processes across the whole company instead of only on the purchasing team.
Take time to measure the current costs, time, and other data metrics before initializing a new eProcurement process.
This provides you with a measurable benchmark to make a comparison against after the fact. It may help to convince staff of the real benefits to be found in the new system.
Frequently asked questions about eProcurement
eProcurement software is a cloud-based system that enables locating, purchasing, and managing the spending a company does on goods and services completely online.
Digital and automated tools help to support business processes. Vendor policies can be defined to streamline procurement strategies.
eProcurement is a business-to-business process. Procurement software will benefit companies that conduct business with suppliers and vendors as part of their supply chain.
An eProcurement system has the greatest potential for success when it brings a company's data under one roof.
For example, Medius Procurement benefits from the powerful Medius Connect system that links to third-party systems. These connections happen in three ways:
Out-of-the-box connectors and rest API let you integrate with and share data into popular enterprise resource planning (ERP) systems
Connections are made to catalogs and vendor marketplaces that provide goods and services
Integration with other Medius modules like AP Automation or Contract Management
eProcurement supports interactions between a business and its preferred suppliers. The cloud-based digital processes allow for a more robust documentation system with tie-ins to other third-party software.
Errors associated with manual processes are reduced or removed, which can eliminate the need for costly dispute resolution and legal action.
More resources we think you'll like
Ready to transform your AP?