GUIDES & REPORTS
Accounts Payable Automation Benchmark Report 2022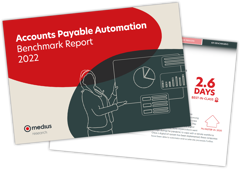 All your spend, simply managed
In this unique report, you'll get a thorough walk-through of how to measure process performance in each step from invoice to pay.
The report presents real-life benchmark values derived from thousands of AP teams around the world so that you can compare your results with the average and best-in-class companies.
Plus, you'll get top tips on how to improve efficiency for further acceleration and automation of the invoice process. 
Ready to transform your AP?