GUIDES & REPORTS
Ardent Partners' AP Pulse on the Mid-Market 2022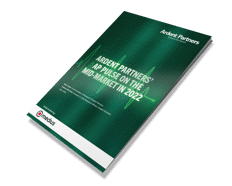 Over the past decade, Ardent Partners has conducted more Accounts Payable (AP) market research studies than any other firm or consultancy in the industry. Over the course of this tenure, they've acquired a wealth of knowledge around the AP inner workings of mid-market enterprises (MMEs).
This report covers the top challenges, opportunities, and trends for accounts payable teams in 2022, as well as a peek into the current Ardent Partner benchmarks for the KPIs they consider crucial to the ePayables framework.
Download this analyst report to learn:
The top priorities for AP in 2022, including addressing the pain points of paper-based and manual steps in the process
The 5 most pressing AP challenges being faced by MMEs and what you can do to navigate these roadblocks
Current benchmarks for key AP performance indicators, including cost and time to process an invoice among others, and the strategies to improve those KPIs to rank among the best-in-class
Join us in restorative climate action! Through our partnership with Veritree, Medius is planting a tree for every piece of content downloaded from our web site.
Ready to transform your AP?