Guides & Reports
Medius Explains: How prepared are you against fraud attacks?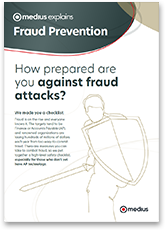 There's no beating around the bush, fraud is on the rise and smart businesses need to be ready to fight it or feel the pain of fraudulent payments and invoices. We made a checklist for you to evaluate how well-prepared your business is against accounts payable fraud.
Read through this "fast facts" guide to learn:
The areas where fraud is most commonly found in accounts payable, and the "check boxes" you should be looking into to see if your company is at risk
Steps businesses should be taking today to make sure they aren't vulnerable frequent fraudster tactics in their invoice processes
Why vendor information management needs to be a part of your overall accounts payable automation strategy
Ready to transform your AP?