GUIDES & REPORTS
How to extract more from your sourcing process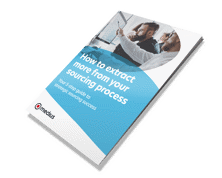 Sourcing is the process of identifying, evaluating and awarding contracts to suppliers that are best suited to the needs of your business, as well as effectively onboarding them into the business. However, creating an efficient sourcing process is a key challenge for many purchasing teams, as there is no proven methodology to follow.
By working alongside eProcurement experts who have helped design our award-winning procurement platform, we have outlined the best five-step approach to achieving successful sourcing. Our methodology is useful for anybody working in procurement, whether you are in an entry-level position or have years of experience.
Ready to transform your AP?