Guides & Reports
Procurement's Tipping Points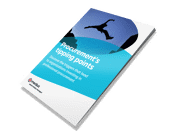 We asked over 250 senior managers and procurement professionals at mid-sized UK businesses about the procurement tipping points that led them to introduce professional procurement into their business. With over 80% of respondents having experience of implementing procurement for the first time, this research provides valuable insight into their experience of dealing with the pressures of fast growth without formal procurement in place.
Read this guide to discover:
The three factors triggering a 'procurement tipping point'
The typical size and scale of an organisation that needs procurement
The pressure points behind upstream and downstream procurement adoption
The immediate, mid-term and long-term goals for procurement
The technologies available to help
Tips on overcoming internal challenges when introducing professional procurement
Join us in restorative climate action! Through our partnership with Veritree, Medius is planting a tree for every piece of content downloaded from our web site.
Ready to transform your AP?