GUIDES & REPORTS
IDC MarketScape for Accounts Payable Automation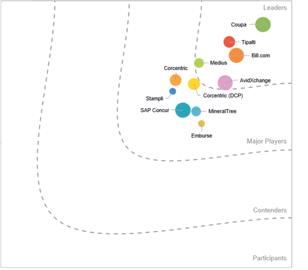 The IDC MarketScape has evaluated eleven cloud-based AP vendors in the market using a set of criteria, including product functionality, range of services, customer satisfaction, innovation, and growth.
Medius is proud to be a Worldwide Leader in the IDC MarketScape report. Download the report excerpt to learn more about IDC MarketScape's guidance for mid-market businesses looking for an AP solution.
Download the report excerpt to learn IDC MarketScape's view on:
The challenges facing AP professionals of today
Major AP trends in 2021
Why Medius is positioned a 'Leader' in the latest IDC MarketScape report
SOURCE: IDC MarketScape: Worldwide SaaS and Cloud-Enabled Accounts Payable Automation Applications for Midmarket 2020–2021 Vendor Assessment, by Kevin Permenter, December 2020, IDC #US47032620e
IDC MarketScape vendor analysis model is designed to provide an overview of the competitive fitness of ICT suppliers in a given market. The research methodology utilizes a rigorous scoring methodology based on both qualitative and quantitative criteria that results in a single graphical illustration of each vendor's position within a given market. The Capabilities score measures vendor product, go-to-market and business execution in the short-term. The Strategy score measures alignment of vendor strategies with customer requirements in a 3-5-year timeframe. Vendor market share is represented by the size of the icons.


Ready to transform your AP?