Medius Spend Management Overview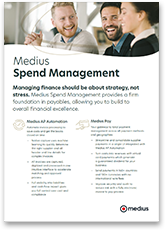 This product overview document walks you through each of the available modules offered in Medius' portfolio of cloud-based Spend Management solutions. Whether you choose to implement a wide-scale, strategic deployment across your organization or a targeted, scalable implementation that fits your business plan, Medius is there to be your partner before, during, and after the process.
Ready to transform your AP?