PRODUCT BROCHURE
MediusGo Expense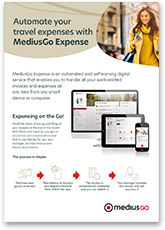 A new generation of Expense Management that manages all your receipts and travel expenses! MediusGo Expense integrates with business cards, electronic logbooks, and all accounting and payroll systems.
Easier - With MediusGo Expense, you no longer need to worry about losing your receipts.
Faster - MediusGo Expense lets you make your claim directly after purchase and submit your costs for approval.
Smarter - The app automatically analyzes the receipt and captures its information.
Ready to transform your AP?