IDC - Accounts payable moving from automated to autonomous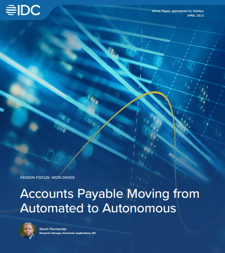 Accounts payable (AP) staff are on the front line of business change and often are tasked to implement cash flow policy changes. In many ways, AP has become the control tower for managing spend within the organization. However, many are stuck with legacy tools and outdated processes.
Don't miss this opportunity to gain valuable insights and stay ahead of the game with our new report from IDC. It examines the pressures driving AP departments to adopt automation as a bridge to mitigate risk and improve efficiency AND how the AP automation of today is evolving to become the AI-driven, autonomous AP of tomorrow.


Join us in restorative climate action! Through our partnership with Veritree, Medius is planting a tree for every piece of content downloaded from our web site.
Ready to transform your AP?