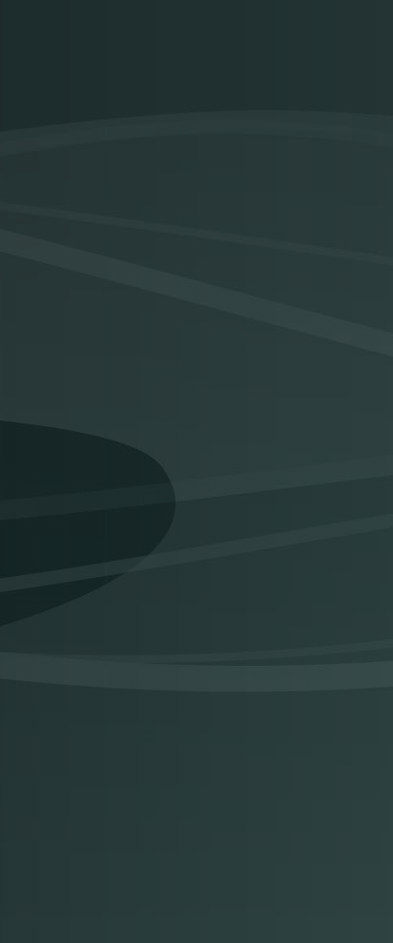 Harness the full power of your Microsoft Dynamics ERP with autonomous AP.
Medius eliminates time consuming invoice processing so you can go home and rest easy.
Dynamics plus Medius enhances your financial decision making by giving you real-time insight into costs, stopping mistakes before they happen, and helping capture spending that is slipping through the cracks.
Try Medius today through Microsoft AppSource.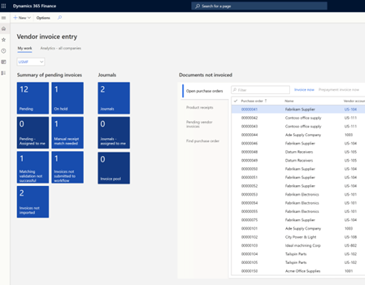 Control your destiny with Medius managed Dynamics integration, no costly integration or consultants necessary.
Avoid the time and cost of ERP integration with pre-packaged and fully managed Microsoft Dynamics ERP connectors that provide a seamless deployment with no effort or risk.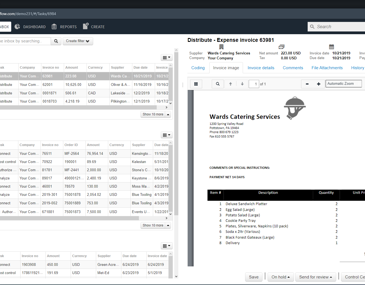 Deliver a level of accuracy traditional invoice-capture methods simply can't touch.
Medius AI that automatically extracts the data you need from supplier invoices and eliminates the need for manual checks and reviews. Medius' continuously learning AI reduces invoice capture and processing overhead, only flagging true anomalies and exceptions.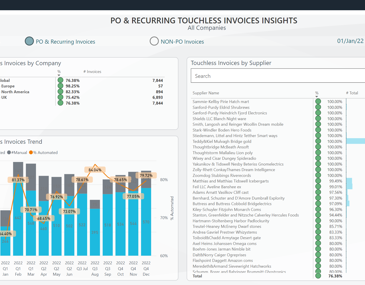 Medius Accounts Payable Analytics expand reporting beyond Dynamics.
Stay on top of costs, forecasts and cashflow with a full, real-time view into how money is spent across your organization delivered through pre-defined reports, dashboards and KPIs.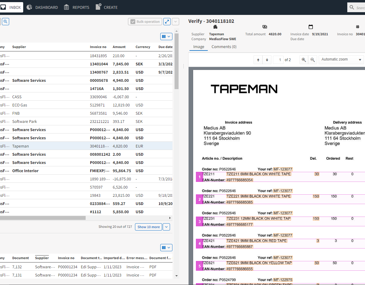 Avoid complicated IT projects.
Dynamics requires IT to setup Azure storage, PowerApps and a third party OCR capture tool. Medius does all of this in integrated invoice-to-pay applications with intelligent capture technology.
Previous
Next
Which AP automation software makes sense for Dynamics 365?
Choosing AP automation software for Dynamics ERP takes more than a quick Google search. Download our guide to discover the most common AP automation software options and top recommendations for users of Microsoft Dynamics.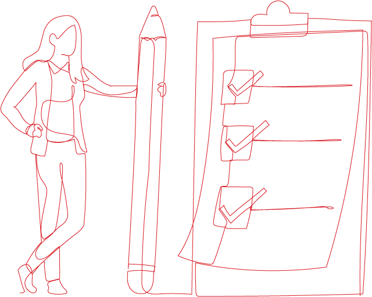 Don't take our word for it.
Hear from Microsoft customers.
Five reasons CFOs prefer Medius for Dynamics.
CFOs across more than 800 global Microsoft Dynamics ERP customers chose Medius for AP automation, and there are good reasons why. Flexibility, scalability, comprehensiveness, and ease of integration are a few highlights of our Microsoft Preferred Solution.
Discover the top five ways Medius shines as Dynamics's leading AP automation tool.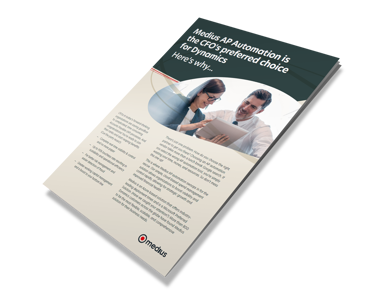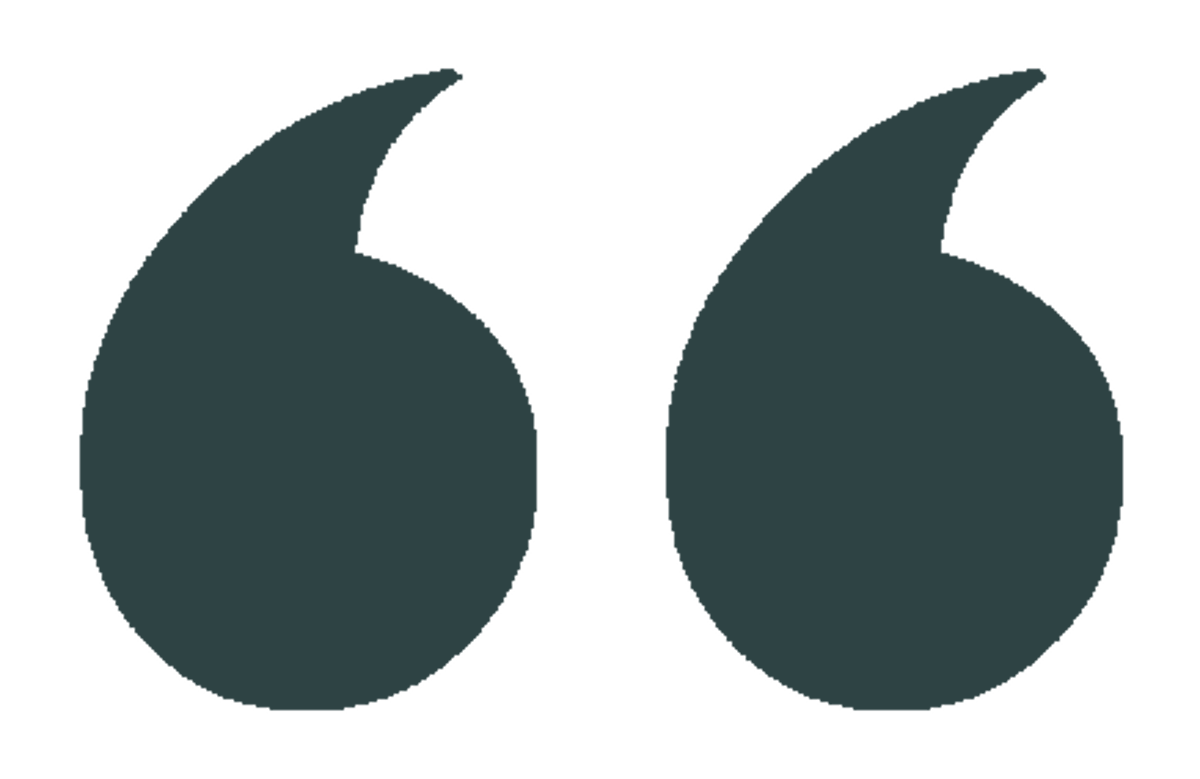 "Medius provides state-of-the-art AI and machine learning that is superior to the system we had in place. It actually grows 'smarter' with every invoice."
Michael Weare
Team Leader, Granngården
Microsoft Dynamics 365 + AP automation software = efficiency.
If your organization still processes invoices manually, this guide is for you. We'll walk you through 15 steps to automate invoice and payment processing with Microsoft Dynamics 365. The result? The digital transformation you need.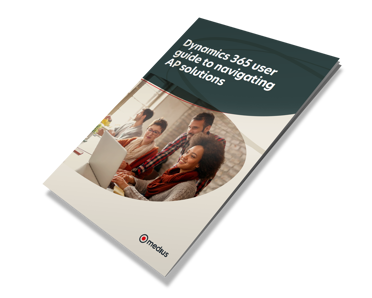 Common questions about
Microsoft Dynamics ERP integration.
AP automation integration for Microsoft Dynamics can be described like having a helper for all your bill and payment management needs within the Microsoft Dynamics platform. With this integration, you can keep all your invoice and payment details in one spot, get rid of manual tasks, and minimize errors, making the whole Accounts Payable process a breeze.
Microsoft Dynamics is software that helps businesses run more smoothly by automating tasks, centralizing data, providing real-time insights, improving customer experiences, managing finances, being flexible, and integrating with other Microsoft products. It streamlines operations and helps organizations make informed decisions, resulting in increased efficiency and productivity.
There are basic invoice processing features available as part of the standard Dynamics 365 offering. Vendor invoices may be entered manually or through a data feed. Dynamics 365 offers support for a manual or semi-automated approval workflow as well as basic invoice matching capabilities for PO-based invoices. However, Microsoft does not offer off the shelf data capture or OCR for collecting invoice data and cannot automate complex invoice matching scenarios, leaving many tasks still in the need of manual work for the AP team. Invoice archive and search functionality is also missing or limited, not supporting - for example - global search across all entities of a corporate group.
Accounts Payable (AP) in Dynamics 365 (D365) is a crucial part of the Financials module that helps you keep track of your company's debts to suppliers for the goods and services received. However, by integrating a separate AP automation system with D365, you can take the functionality and efficiency of the Accounts Payable process to the next level. With the integration, you can automate tasks such as invoice processing, purchase order matching, vendor statement reconciliation, payment runs, and vendor payment management. The integration helps reduce manual effort, increase accuracy, and ultimately improves the overall efficiency of the Accounts Payable process, giving your company a significant advantage in managing its financial obligations.
Integrating an Accounts Payable (AP) Automation solution with Microsoft Dynamics can bring many benefits, but security is a top priority. A secure integration should include encryption to protect sensitive data during transmission, access control to only allow authorized users to see data, data backup and recovery in case of an outage, compliance with regulations such as the RU GDPR (General Data Protection Regulation) and PCI DSS (Payment Card Industry Data Security Standard), and regular security audits to keep the integration secure over time. With these measures in place, businesses can be confident that their sensitive data is protected and that their integration with Microsoft Dynamics is secure.
Microsoft Dynamics 365 (D365) is designed to work seamlessly in a multi-system environment. It integrates with other systems and applications through APIs, connectors, and other integration tools. In a multi-system environment, D365 acts as a hub, connecting to various systems and allowing data to flow seamlessly between them. This allows organizations to bring together data from different sources into a single, unified view. 
For example, D365 can integrate with a CRM system, and an AP Automation solution. In this scenario, D365 acts as the central hub, connecting to each of these systems and allowing data to flow freely between them. This provides organizations with a single, unified view of their data and enables them to make informed decisions based on a complete picture of their operations.
Ready to transform your AP?