GUIDES & REPORTS
New Frontiers in Accounts Payable: Automation, Digitization and Impact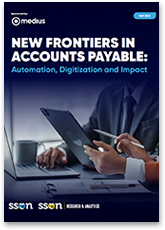 When asked what their priority for 2023 would be, 87% of finance and shared service practitioners pointed to integrating end-to-end processes. Yet in the same study, less than half of respondents have taken advantage of AI in their digitization efforts. When push comes to shove, they're still struggling with errors and bottlenecks because digitization alone simply isn't going to cut it.
Autonomous AP relies on cutting-edge AI capabilities, like Machine Learning, to make those challenges a thing of the past. Autonomous AP can use self-learning capabilities to provide AP teams with invoice data they might have not even realized they needed and productivity gains that reduce the workload of tedious manual tasks that slow staff down and stress them out.
This report with SSON dives into Autonomous AP and:
How Autonomous AP differs from the AP Automation of years past
The consequences of partial automation and the risks that come with not embracing technology
Opportunities that come with autonomous invoice processing, and their impact on the greater business
A case study of how NIC Global went from manual to autonomous
Ready to transform your AP?