CASE STUDY
Global roll-out of AP automation for Infor M3 at Mowi
Mowi is one of the largest seafood companies in the world, and the leading producer of Atlantic salmon globally. As the company has grown, both organically and as a result of mergers and acquisitions, Mowi ended up with a very complex IT infrastructure with many different business applications in use, resulting in a lack of data synchronization and global visibility. They needed a best-of-breed AP solution to complement their Infor M3 ERP on a global scale.  
"We selected Medius because it has a proven track record delivering AP automation for companies using Infor M3. In addition, Medius strong cloud connector to M3 was critical to support our global roll-out." - Jørn I. Berg, Group IT Business Applications Manager
Download the case study to learn the full story.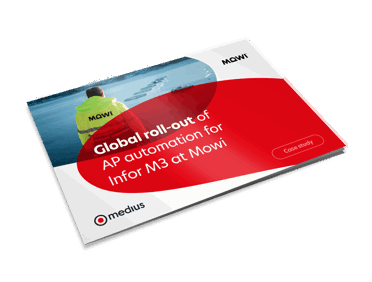 Our AP solution comes with a guarantee:
You don't have to work tonight.
Managing AP should be about strategy, not stress. Medius goes beyond basic automation by using AI to do the work –
so AP teams can (heaven forbid) go home and rest easy. Spend a few minutes with one of our advisors to learn more.