Guides & Reports
Quick Guide: Automated Invoice Processing for JD Edwards
If your organization is still processing invoices manually, this quick guide is for you. We'll walk through 15 steps on how to automate invoice and payment processing with JD Edwards Enterprise One to achieve your payables digital transformation. 
In a series of simple steps, we cover four main areas:
Improving manual or inefficient processes
What your employees can do
What key metrics you should look out for
What technology helps the most
Download your copy of the guide today.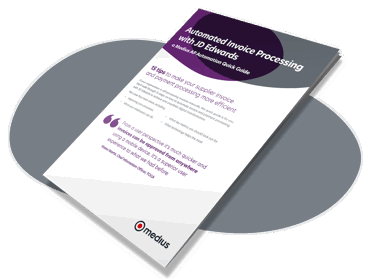 Our AP solution comes with a guarantee:
You don't have to work tonight.
Managing AP should be about strategy, not stress. Medius goes beyond basic automation by using AI to do the work –
so AP teams can wrap up on time and rest easy. Spend a few minutes with us to learn more.