GUIDES & REPORTS
Ardent Partners' Pulse on B2B Payments in 2023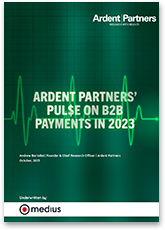 Rising inflations and corresponding spikes in interest rates are driving an all-time high in investment for better managing B2B payments for companies around the world. Those early adopters of prioritizing payment strategies as part of their spend management initiatives have already seen the inarguable value of why payments need to be a part of your procure to pay digital transformation endeavors.
In this latest report for renowned analyst firm, Ardent Partners, the data from finance professionals around the world shows the changing tides when it comes to B2B payments as well as the top challenges and strategies when it comes to modernizing the various ways to pay suppliers. Download "The Pulse of B2B Payments in 2023" report today to get a bird's eye view of the current state of enterprise payment operations and understand how you can optimize your own processes to impact bottom-line results.
Quick highlights from the report:
Why more than half of all respondents reported a renewed effort in changing how and when they pay suppliers.
The top 3 hurdles to using ePayments with suppliers, including a lack of integration between payment and accounting technologies.
Why cards are a predominant strategy in the cash management playbook of 2023.
What to tackle first (in an actionable checklist) when optimizing your B2B payments.
Ready to transform your AP?