GUIDES & REPORTS
Get the most out of NetSuite with Medius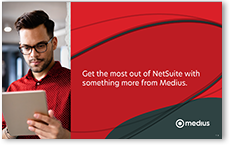 Manual accounts payable processes create many challenges — costly delays, late fees, missed opportunities, vulnerabilities to fraud, and lack of visibility. To solve for this, you'll want to look for vendors who can help you become more efficient, cut costs and bring value back to the business.
You'll likely find that most AP solution providers will tout automation as a key differentiating factor. Automating tasks is good, but when you find the one that goes beyond automation — the one that eliminates tasks altogether — that's when the magic happens.
With Medius for NetSuite, you finally get end-to-end visibility into procure-to-pay processes, regardless of the invoice format, any exceptions to standard procedures, or the personnel available on a given day. Medius is a fully approved NetSuite vendor that has worked closely with NetSuite to integrate its autonomous AP solution into the NetSuite Platform. Read this whitepaper to learn more.
Ready to transform your AP?