GUIDES & REPORTS
It's time to move beyond the PDF Invoice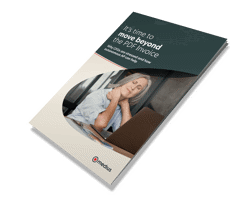 Between 2019 and 2022, many changes occurred globally, including in the world of Accounts Payable (AP). Despite being an important function that impacts multiple business departments and cash flow, AP often receives insufficient attention and resources.
However, executives now recognize the value of AP, with 66% of businesses stating that it is "very" or "exceptionally" valuable in 2022 compared to just 33% three years ago. Nevertheless, AP remains challenging for CFOs to manage due to new disruptions, classic tasks, and limited visibility and insights.
By utilizing true Artificial Intelligence (AI) and Machine Learning (ML), CFOs can achieve desired results from AP, freeing up time to focus on more strategic business needs. The paper covers why manual processes and PDFs are outdated and how autonomous AP (with an ERP) can help complex businesses by increasing visibility, optimizing supplier networks and cash flow, reducing stress, and more.
Ready to transform your AP?