GUIDES & REPORTS
NetSuite Users: Fall in love with your AP process again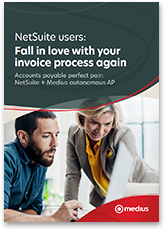 Economic factors like inflation, interest rates, and supply chain disruptions highlight the need for spending scrutiny. AP leaders are seeking visibility and autonomy previously out of reach. To rein in spending, using AP processes is an obvious next step.
However, in most companies, the AP process isn't just broken in one or two places. It's broken, or at least suboptimal, in several places, even if companies have adopted an advanced financial platform like NetSuite. These issues are causing disruptions in financial management, making it crucial for businesses to identify and address gaps to optimize their accounts payable process
Download this eBook to better understand why Medius & NetSuite are a match made in AP heaven, and how our pre-packed integration that's SuiteApp approved is a formula for a long-lasting, fulfilling relationship.
Ready to transform your AP?