PRODUCT BROCHURE
Medius Elevate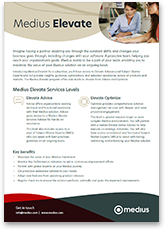 Introducing Medius Elevate! As a subscriber, you'll have access to Elevate Advisors and Subject Matter Experts who will provide insights, guidance, optimization, and adoption assistance, across all products and markets.
Learn about the service levels available to your organization and the key benefits to subscribing in this product sheet.
Ready to transform your AP?