PRODUCT BROCHURE
Medius Supplier Portal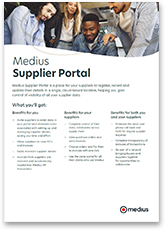 Medius Supplier Portal is a place for your suppliers to register, record and update their details in a single, cloud-based location, helping you gain control of visibility of all your supplier data.
In this product sheet, we'll discuss the benefits both you and your suppliers will get from using the portal.
Ready to transform your AP?