Accuracy in the invoice process
AP professionals recognize the 3-way match and 2-way match are crucial to ensure accuracy in the purchase order invoice process. With that in mind, a 2-way match matches the invoice quantity and price to the purchase order and price. A 3-way match adds a goods receipt to ensure the company receives the same number ordered and invoiced. Consider the differences between a 2-way and 3-way match in accounts payable and how it impacts the bottom line.
The terms of an order are memorialized in a purchase order (PO) to show crucial information such as quantities, contracted cost, and when payment is due. Next, an invoice is received from a vendor to pay the goods or services outlined in the PO. Then the AP team compares the quantity and amount on the PO to the invoice, referred to as 2-way matching.
A 2-way match in accounts payable simply matches the PO to the PO invoice alone. This process does not refer to the packing slip or receipt typically sent with purchases. The purpose of 2-way matching is to verify the organization received the correct items or services at the contracted price. Handling this process manually requires time and human resources, and errors are likely to occur. AP automation ensures the highest level of accuracy in 2-way matching.
What is a 3-way match in accounts payable?
Clearly, 2-way matching leaves room for errors because the packing slips and receipts are not included in the process. In 3-way matching, the AP team matches the PO to the PO invoice and the packing slip or receipt to determine discrepancies. The primary reason for 3-way matching is to prevent inaccurate or fraudulent invoice payments by resolving mismatches before processing payments. However, there are advantages to both depending on the company, its size and systems, and its business relationships.
In most instances, 3-way matching is preferred to ensure the organization does not pay invoices until everything matches. The 3-way match saves companies from overspending, paying for something not received, and helping detect potential fraud. Cloud procure-to-pay automation handles matching quickly, efficiently, and without human intervention.
How does cloud AP automation simplify 3-way and 2-way matching?
Manual processing requires hours of human labor, delaying invoice payments and financial reports. Plus, the AP team must perform endless tedious work, and mistakes are inevitable. Partial automation minimally improves efficiency and leaves room for human error. However, cloud AP automation simplifies the 2-way and 3-way matching processes by eliminating human intervention.
Cloud automation handles matching efficiently, accurately, and quickly in real-time for timely payments. Plus, the AP team focuses on more practical work, such as negotiating with vendors for discounts for early payments. As a result, automation saves time, money, and human resources while helping the organization avoid late payments and invoice fraud.
What are the benefits of cloud procure-to-pay automation?
Cloud procure-to-pay automation follows the invoice process from procurement to payment. One of the most significant benefits of AP automation is supporting remote work to keep organizations working in any circumstances - including global disasters. Consider some of the advantages of implementing AP automation solutions:
Establish and improve solid relationships between buyers and vendors.
Save money and time by verifying accuracy every step of the way.
Streamline the auditing and reporting processes with accurate records and reports for all payments.
Attract top AP talent to the company by supporting remote workers and implementing the latest technology.
Plus, companies improve their brand reputation by paying vendors on time and staying ahead of their production schedules. As a result, the C-suite realizes a continued ROI for implementing AP automation.
Understanding a 3-way match versus a 2-way match is crucial for AP team members to process payments accurately. However, inefficient manual processes lead to costly mistakes and late
Are outdated processes holding you back?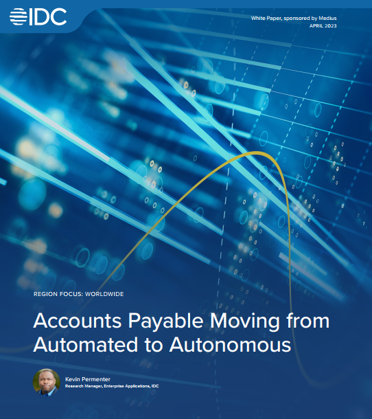 Accounts payable staff are on the front line of business change and often are tasked to implement cash flow policy changes in near real time. In many ways, AP has become the control tower for managing spend within the organization. However, many of them are stuck with legacy tools and outdated processes, creating massive inefficiencies. The real promise of AI and machine learning within accounts payable is not just streamlining processes but eliminating them.
This report from IDC explores how AP automation of today is evolving to become autonomous AP of tomorrow.