PRODUCT BROCHURE
Medius Invoice-to-Pay AP Automation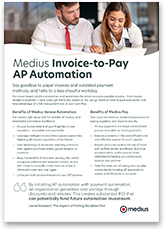 Managing AP and finance should be about strategy, not stress. Go beyond basic automation with Medius Invoice-to-Pay, and make peace of mind in AP a reality.
With Medius, you can get rid of paper invoices and outdated payment methods and get time back with a solution that allows you to work faster and smarter.
Ready to transform your AP?