Managing a health system is complex, and technology can answer whether your healthcare accounts payable are on track or holding you back.
We live in a world made up of information. Healthcare organizations track and measure data throughout doing business. Key performance indicators (KPIs) can help to identify where health systems are doing well and where they can improve.
Key performance indicators also help you leverage your data to make informed business decisions and understand your supplier network.
Besides increased productivity, KPIs can also assist accounts payable with transparency while enforcing proven methods.
Many healthcare companies are plagued with high costs in accounts payable because of manual interventions needed to complete the invoicing process or needing to understand where to focus for improvement.
What is the best KPI for accounts payable in a healthcare business? Read below for specific metrics to help your AP department remain efficient.
Top Accounts Payable KPIs Health Systems Should Be Tracking
Healthcare KPIs can be tracked across many different data points. Let's identify the top accounts payable analytics that many health systems find useful. Then we will see some solutions to solving the problems identified.
Total Number of Invoices
The total number of invoices your healthcare business processes can show the current volume of business done and identify growth or recession.
It may show when you need to act to increase staff or automate processes to better handle volume jumps at certain times of the year.
If there is a significant difference in the total number of invoices received and those processed, you may have bottlenecks in your processes that are slowing the business down.
AP Process Cycle Time
Monitoring the time between a vendor issuing an invoice and receiving payment helps avoid late payment fees. It may let you take advantage of early payment discounts that improve your bottom line.
Tracking an invoice can zoom in on several steps:
Examine the time it takes from the invoice being issued to its receipt
Look at the time it takes your health system to process the invoice internally, including the time spent to approve
View the time it takes from processing to payment based on the payment method you use
Payment Errors
Payment errors lead to inefficient use of health system funds. Errors that may be costing your business money include the following:
Payments sent in error
Excess funds paid to a vendor
Data entry mistakes
Savings not pursued
When you add in the extra cost of time spent correcting these issues, payment errors significantly lower your health system's performance.
Errors need to be tracked by type and team members involved. This gives you the best opportunity to provide additional training or other mitigation to reduce future problems.
Vendor Discounts
Suppliers may offer discounts when they receive fast payment or when you use their preferred payment method.
The AP team can find ways to recover funds by reviewing the organization's contracts and payments.
This can lead to understanding your AP process more fully and identifying the process steps that prolong payments.
Days Payable Outstanding
This is the average number of days your health system takes to pay back its accounts payable. Tracking these analytics gives an overview of how your business is doing in the payment process.
A high DPO can mean a healthcare company has extra cash for business activities. But lowering the DPO can positively impact your vendor relationships and may reduce errors like duplicate payments of invoices. Ultimately, without a crystal clear view into your invoices and payment dates, you won't be able to determine the payment path that makes the most sense for your company's cash flow.
Cost to Process an Invoice
This healthcare KPI helps a health system determine what it costs to pay each invoice from start to finish. This may include things like:
AP staff payments
Operating expenses
Equipment and office supplies
Overpayments or late payment fees
Error mitigation cost
Auditing costs
Payment Methods Breakdown
Monitoring payment methods your healthcare organization uses to pay suppliers can point out inefficiencies or a path to improvement.
If many payment methods are used, it may be time to optimize the payment mix. Without healthcare AP automation, you will likely have separate and manual processes for handling each payment time, increasing the complexity and manpower needed.
For some, this will make a case for adopting a fully electronic payment system that streamlines vendor payments over other methods like paper checks.
Organizations should track both top methods of payment and preferred methods of payment for suppliers.
Vendor Comparison
Maintaining vendor relationships is an important duty of accounts payable. The AP team can clearly see which vendors along your supply chain are most important to keeping your business running and which suppliers should be phased out if they're only causing harm.
Medius Analytics
Medius is a perfect fit for healthcare. With innovative tools that are easy to use, we put the power of knowledge back into your hands.
Consider using our spend analysis software, Medius Analytics, to wield your AP data in the most efficient way possible.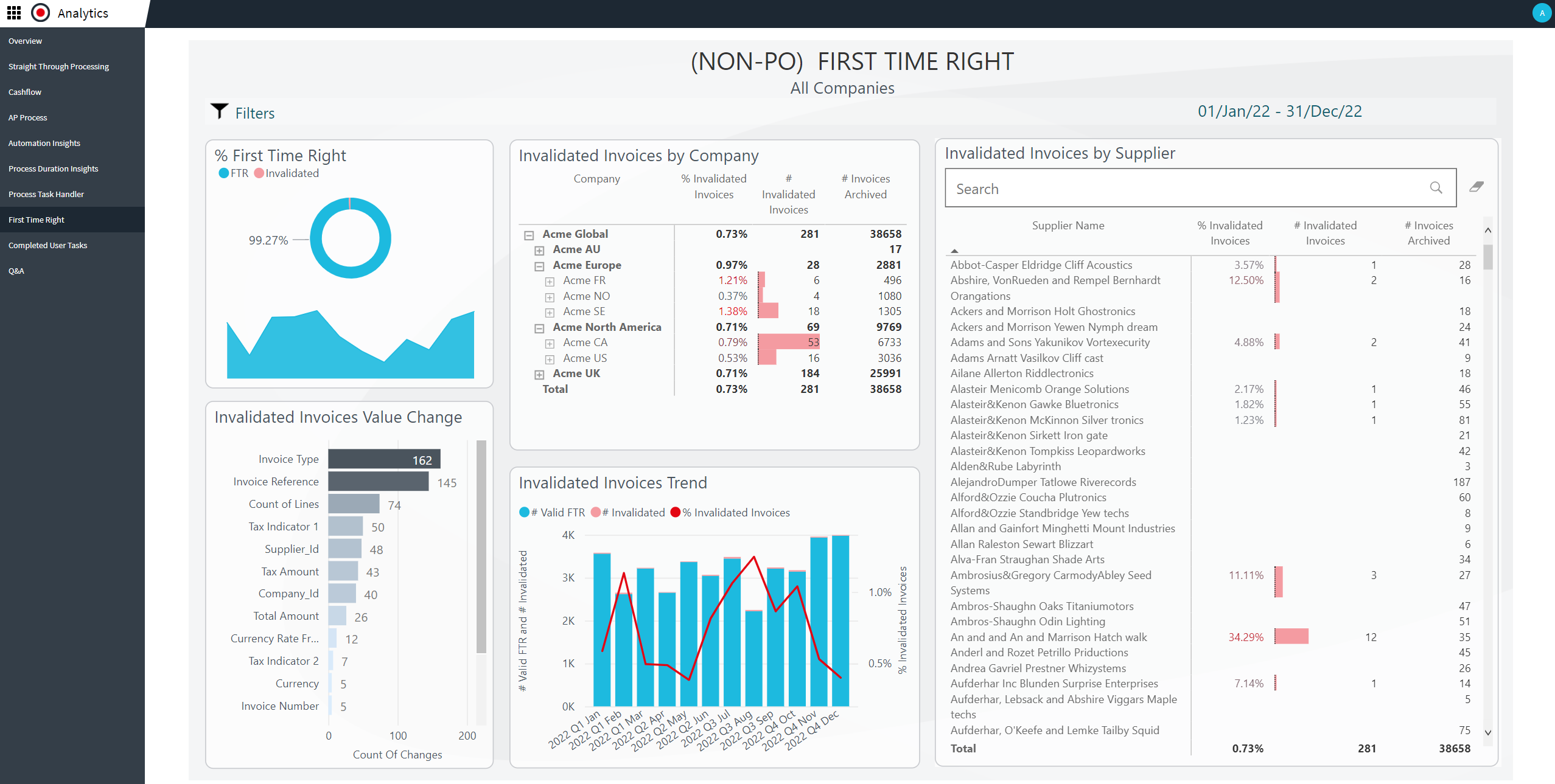 Correctly executed analytics will give you increased visibility into your cash flow. You can see real-time data to improve forecasting and make wise decisions that benefit your bottom line.
You will have the power to manage payments to vendors better and see ways to increase savings by taking advantage of early payment discounts or payment rebates.
Your AP team can track the payment process from start to finish and identify bottlenecks to target areas of improvement.
AP Automation offers an opportunity to act on the analytics gathered. Turn manual, paper-based invoices into digitized workflows. Improve your operations with a seamless, holistic view of invoice data.
Your health system will benefit from advanced technologies like artificial intelligence, machine learning, and OCR to organize accounts payable into one system while synchronizing from your current enterprise resource planning (ERP) or accounts payable system.
Book a demo today to discover what Medius solutions can do to support your healthcare organization!
Are outdated processes holding you back?
Accounts payable staff are on the front line of business change and often are tasked to implement cash flow policy changes in near real time. In many ways, AP has become the control tower for managing spend within the organization. However, many of them are stuck with legacy tools and outdated processes, creating massive inefficiencies. The real promise of AI and machine learning within accounts payable is not just streamlining processes but eliminating them. This report from IDC explores how AP automation of today is evolving to become autonomous AP of tomorrow.