Is your accounts payable software automated? Do you know if your touchless AP level is 30%, 60%, or 70%? Would your company benefit from bridging the gap to 90% or higher rates of touchless processing? 
Accounts Payable (AP) automation has been on the business agenda for a while, but it's finally getting the love it deserves. In fact, a staggering 66% of executives now see it as "exceptionally" or "very" valuable – a big jump from six years ago.1
But here's the catch: some organizations have yet to hop on the AP automation bandwagon, while others are stuck using outdated solutions that hold them back from fully automating and achieving touchless invoice processing.
In this blog, we'll:
Common, persistent AP challenges of 2023. 
All companies face similar accounts payable challenges. Surprisingly, even with 61% of companies using some AP automation, everyone still faces tactical problems in 2023 caused by paper-based processes, manual steps and limited automation capabilities. 
What's slowing AP down?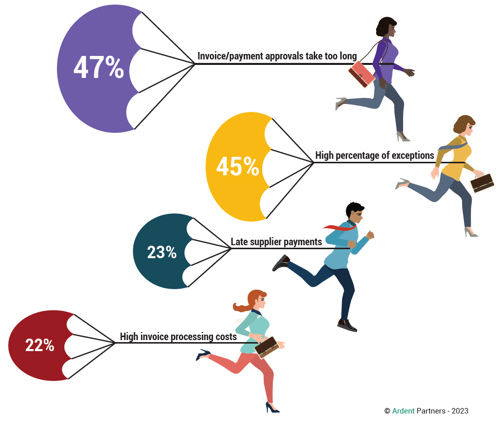 1 Ardent Partners' Accounts Payable Metrics that Matter 2023
According to research from Ardent Partners, the top challenges are invoice payment approvals taking too long, a high percentage of exceptions, late supplier payments and high invoice process costs – among
What does touchless invoice processing mean? 
A touchless process happens when no intervention is required from the invoice to the ERP for payment. In other words: no manual work by staff members of the AP department or anyone else in the organization. According to Ardent Partners, best-in-class enterprises report a 2.2x higher rate of touchless invoices. How do you get there? Start with identifying your opportunities. 
Where can you automate the AP process?
The accounts payable (AP) function has two distinct processes determined by invoice type, and they can both benefit from automation: direct spend and indirect spend.
PO-based invoices can be automatically approved and posted if the data matches the supporting documents, such as purchase orders, goods receipts or payment plans. No user intervention is needed, ensuring the process is both efficient and accurate.
Expense invoices are often unrelated to purchase orders and can be complex to code, approve and process manually. Automating these tasks can improve financial precision and reduce the need for manual intervention, enhancing efficiency and productivity while preserving accuracy.
5 ways to use data and tech to reach touchless AP.
AP automation heavily relies on invoice data, matching data, and smart business rule logic that leverages machine learning, AI and other innovative technologies. Put these areas together to form touchless accounts payable. Here are five ways to improve accounts payable automation – no matter where you are on your automation journey.
Improve invoice data quality
Enhance ERP data quality
Optimize matching logic
Automate processing of non-PO invoices
Identify and remove invoice processing bottlenecks
Current AP process automation levels.
Ardent Partners 2022
1. Improve invoice data quality. 
Efficient AP processes require a strong beginning: the invoice. Understanding the amount of manual labor associated with poor invoice data quality is crucial. Setting up KPIs to monitor and measure supplier invoice quality can make all the difference. These metrics include, but are not limited to:
Paper invoices that require scanning and manual interpretation.
Capture rates for header and line-level details.
"Ugly" or ill-formatted invoices limited by legacy billing systems.
Volume of invoices submitted as PDF email attachments.
And more. 
Tips to get started:
Set up standard e-invoice policies.
Offer to accept a wide range of e-invoice formats.
Establish solutions that provide self-service, free-of-charge e-invoicing for smaller suppliers. 
Encourage suppliers to leave paper invoices behind and opt for an electronic PDF process to transition towards e-invoices. 
If e-invoices are not an option, optimizing scanning and data capture processes is an appealing method to consider, as it improves the quality of data at the very beginning of the process. 
Did you know? Leading AP automation solutions leverage machine learning and artificial intelligence technology to deliver powerful, accurate invoice data capture of all invoice types.
Read our IDC report to learn about the pressures driving AP departments to adopt touchless AP as a bridge to mitigate risk and improve efficiency AND how the AP automation of today is evolving to become the AI-driven, autonomous AP of tomorrow.
2. Enhance ERP data quality. 
ERP data quality is the ERP backend's PO and goods receipt data that matches supplier invoice details. The promise and wide-scale adoption of EDI technologies to streamline the data exchange between buyers and supplies have yet to materialize. Only the largest corporations adopted EDI because of its cost and complexity. The rest of the suppliers are left to find alternative approaches, such as submitting invoices from their billing system. 
Start with an assessment.
Assess your ERP data quality by clearly outlining a set of comprehensive KPIs and closely monitor reports to measure room for improvement, such as: 
Price deviations per supplier – is the price list up-to-date in the ERP? 
Quantity deviations per supplier – does the supplier bill in different UOM? 
Percentage of invoices requiring manual intervention for complete matching.
Tips to get started: 
Establish routines to continuously track and report ERP data issues to suppliers, procurement (who, in many cases, are the data owners), and other internal stakeholders.
Review and analyze data across the organization to spot trends, quickly drill into details, and take necessary action. 
Make reports an integral part of your supplier audit conversations to determine the root of where problems occur. 
Medius benchmarks show on average, 29% of our users' invoices need to pass through a manual connection step whereas best-in-class organizations only need to connect 3% of PO-based invoices manually.
Read our IDC report to learn about the pressures driving AP departments to adopt touchless AP as a bridge to mitigate risk and improve efficiency AND how the AP automation of today is evolving to become the AI-driven, autonomous AP of tomorrow.
3. Optimize matching logic. 
To optimize automated matching and your level of touchless invoice processing, use a matching engine that does the heavy lifting for you. For example, do you have an automated workflow that matches invoices according to your organization's specific requirements and processes and caters to the nuances of your suppliers' billing systems? 
Flexible + specialized = touchless AP.
Your AP automation solution's matching engine should be flexible and specialized to: 
Dynamically match invoices on different levels–line item, line total or header–for the same vendor depending on available information. 
Configure rules that support all relevant matching scenarios
Automate the management of additional fees such as freight, customs, and environmental charges within preconfigured tolerance levels. 
Can your current AP automation solution support your most complex matching scenarios?
Line item matching with multiple purchase orders and goods receipts. 
Line total matching when units of measure differ between invoice and order/receipt. 
Invoices with expected and unexpected additional fees. 
Matching invoices to orders from multiple ERPs. 
Matching invoices against recurring spend. 
Success Story
Global cloud solution provider SoftwareONE focus their process improvement efforts on pinpointing opportunities for further automation. Leveraging reporting within Medius AP Automation they have full visibility into the process to understand where things go wrong.

Touchless rate: 88%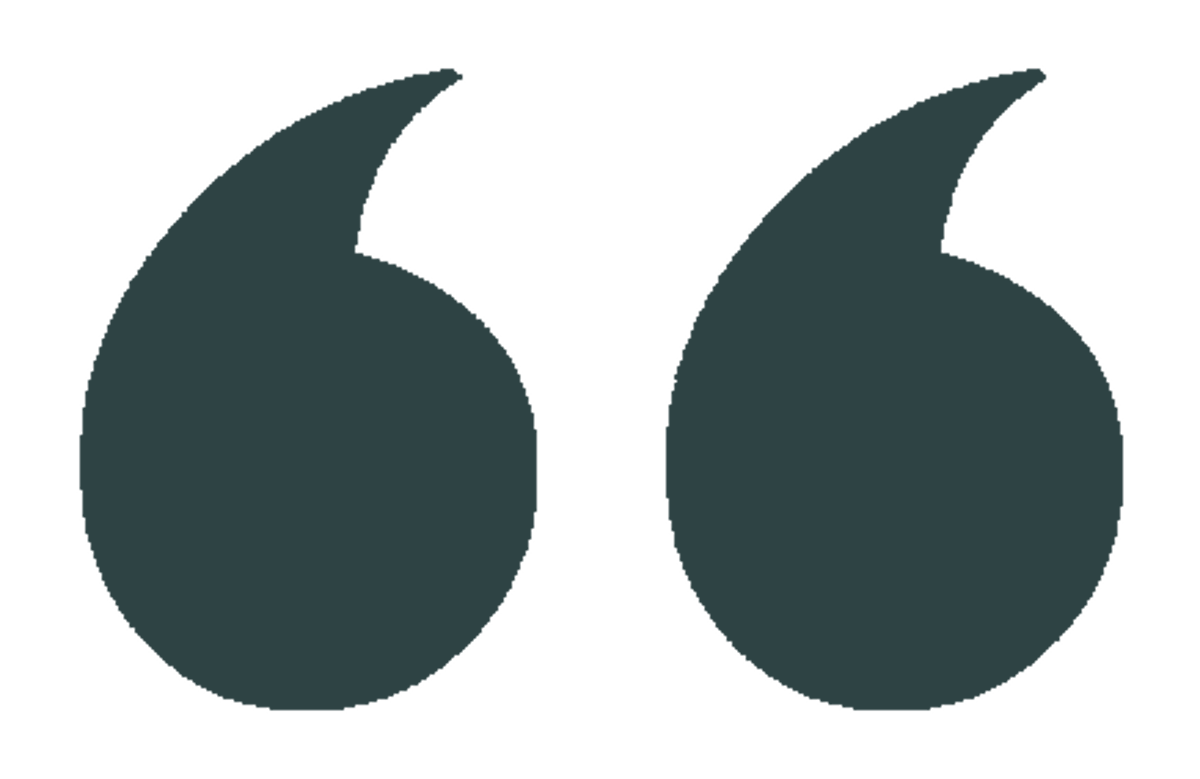 "Medius AP Automation enabled us to reach high automation rates right from the start. When an invoice is not automatically matched, we identify the issue and contact the supplier to have them correct and resend the invoice so that we can leverage automatic matching and further improve our process."
Pim Beijen
Group NWC Manager, SoftwareONE
4. Automate processing of non-PO invoices.
In an ideal world, you could reach 100% touchless invoice processing and automatically match them with purchase orders. But let's face it; hardly any organization can use PO-only processing! There's often a need to be agile and flexible to meet ever-changing business requirements. On the bright side, despite highly manual procedures, automation can still reduce the workload on the whole company. With machine learning, you can train the system to know where invoices should be coded and approvals based on past actions. 
Non-PO invoice automation workflow examples: 
Automatic distribution to the appropriate approver based on supplier and organization approval hierarchy. 
Automatic coding based on invoice type, supplier or historical data. 
Automatic approval of recurring costs, such as lease or contractor costs, by matching to a contract with a set invoicing plan. 
Average approval time: non-PO invoice 
Medius Benchmarks
1.3
DAYS
BEST-IN-CLASS
Trend
The average performance is equal to the previous year while the best-in-class performers recorded a 6% quicker approval time. This is likely another pandemic effect where it is harder to achieve timely invoice approvals from people working remote. In that perspective it is in fact positive that companies managed to maintain the approval time in par, and truly impressive that best-in-class companies have achieved further efficiency in these hard times.
+/- 0% vs. 2020
The 2022 Accounts Payable Automation Benchmark Report
5. Identify and remove invoice processing bottlenecks.
Run an analysis to identify bottlenecks that can expose workflow tasks that slow down the process and individuals who fail to align with invoice process policies. Often, you can quickly spot approval issues or exceptions that need action. When you take a moment to analyze, you can find ways to improve your processes and highlight internal training needs within your organization. You can even catch misaligned approval schemes or areas with many invoices getting "stuck" – often ignored by management. To see how well approvals are working in your organization, these KPIs can help track things:
Lead time per task in the workflow.
Task completion time per user and role.
Number of users involved in approval per invoice.
Number of invoices approved by the first person in the approval flow.
With visibility stats, you can optimize your invoice approval process. The trick is to route the invoice to the right person or role at the right time based on coding dimensions, approval hierarchies, and invoice amount. You'll ensure accuracy, control, convenience and speed by making it easy for approvers to do their part. 

Did you know? Best-in-class AP organizations spend almost 50% less time responding to inquiries.
Read our IDC report to learn about the pressures driving AP departments to adopt touchless AP as a bridge to mitigate risk and improve efficiency AND how the AP automation of today is evolving to become the AI-driven, autonomous AP of tomorrow.
Need help getting started?
Medius goes beyond automation to deliver AI-driven autonomous AP, supporting your journey toward touchless accounts payable. Contact us for more information, and get more insight from our resource center.
Sources:
1. Ardent Partners' Accounts Payable Metrics that Matter 2023
2. SSON Global State of AP Automation Survey 2021
3. Ardent Partners: The State of ePayables 2022: Mastering a Key Function at a Critical Time
4. Medius: The 2022 Accounts Payable Automation Benchmark Report