GUIDES & REPORTS
Quick Guide: Automated Invoice Processing with SAP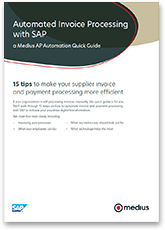 In today's fast-paced digital world, your customers expect efficient invoice and payment processing. Unfortunately, your finances can only move as quickly as your accounts payable processes. If your processes are slow and inefficient, your staff is being needlessly burdened and you're missing opportunities for bringing value back to the business. This isn't fun anymore - there has to be (and there is) a better way to approve invoice processing for SAP users.
This guide introduces 15 tips for SAP users looking to optimize their accounts payable processes, as well as specific major opportunities for improving AP processes.
Ready to transform your AP?