CASE STUDY
Reily Foods case study
With 100,000 invoices manually processed each year using a Windows based document management system – with no collaborative visibility or baseline reporting capabilities – it took seven full-time employees to do the job. That's because the process consisted of manually matching, coding, and keying invoices with purchase orders, after tracking down invoices, which often went directly to other departments rather than to accounting. When an invoice was paid, it was recorded as such on a spreadsheet.
Today, Reily foods complete invoice processing time – from receipt to posting in the ERP for payment – is just under 40 hours, less than two days and significantly faster than the lead time with the previous system in place. They have nearly eliminated all manual work, allowing the AP team members to spend their time on more strategic, value-driven tasks, including tracking KPIs and developing continuous improvement policies and procedures.
"Now with Medius AP Automation, we have visibility like you would not imagine!" - Paul Fournet, Accounts Payable Supervisor, Reily Foods
Download the case study to learn how they did it.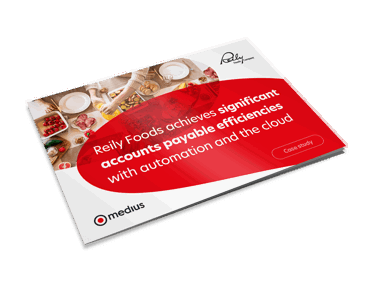 Our AP solution comes with a guarantee:
You don't have to work tonight.
Managing AP should be about strategy, not stress. Medius goes beyond basic automation by using AI to do the work –
so AP teams can (heaven forbid) go home and rest easy. Spend a few minutes with one of our advisors to learn more.