GUIDES & REPORTS
Medius AP Automation Integration to SAP Diagram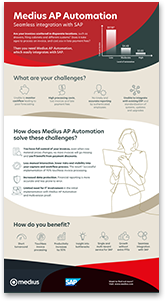 Are your invoices scattered in disparate locations, such as drawers, filing cabinets and different systems? Does it take ages to process an invoice, chase down approvers and cost you late payment fees?
Then you need Medius AP Automation, which easily integrates with SAP. Follow the illustrated guide below to see how choosing a modern AP automation solution with a seamless integration to your ERP can change the way you see invoices and significantly raise the level of value AP contributes to the greater business.
Ready to transform your AP?